A great and interesting
hip-hop rap CD
has been released by
Troy Neilson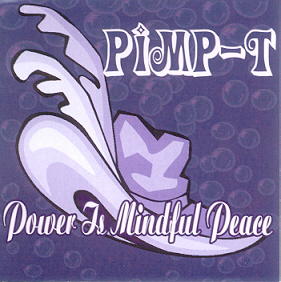 from Fredericton, New Brunswick. The CD entitled,
Power is Mindful Peace
, has been
nominated for an ECMA 2003
in the
Urban Recording of the Year
category. Troy goes by the name,
PIMP-T
, which means,
Power is Mindful Peace
and the
T is for Troy
. This
2000 Urban X-Posure top-five award nominee
pokes fun at the current state of hip-hop with his all-for-fun pimpin side.
The CD is produced by a posse of likeminded cohorts, and Pimp-T gives us a disc of raps and beats full of the positive, with the message that there's power in peaceful actions...the beats are right-on, and so is the sentiment says Bob Mersereau, from the Telegraph Journal & CBC Journalist.
Listening to this CD, one gets wrapped up with the notes and topical subjects. It sounds like fun, and has a different approach to music. The CD sounds like a soundtrack rather than a solo artist's debut album. With this in mind, Pimp-T had a variety of Producers contributing to the album. The sound-track-esqueM feel can also be attributed to the diverse content.
He chose a variety of topics for the songs on the CD like, song for his mother, a simple petty crime, the innocence of mind, caters to ladies, party people and a bad mood song. Here are some song titles: Intro-Tha PimpT Thene-Petty Crime-Hippity Hop Feat-Power is Mindful Peace-Bump-N-Grind Fiend-Get Yo Groove On-Party Slam feat-Moma and six more. For all the hip-hop rap fans, this CD will certainly be a winner and perhaps even attract all those non-rap fans. To purchase this fine CD, click in the above posted website & e-mail addresses.