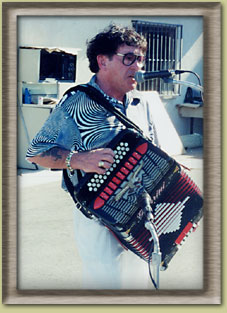 Meet
Eddie Coffey
, one of Newfoundland's most popular
singer/songwriters
, who has paved the way for many artists through the years with his
outstanding form of music
, both singing and playing his button accordion. Eddie was
born
and raised in
Placentia Bay, Community of Cuslett, Newfoundland
, where music was a way of life. His mother was a fine accordion player as well as his grandmother, and Eddie was
taught to play the accordion by his mother
when he was 10 years old. He left home at
age 18
to find work and
went to Labrador
to work in the Wabush mines. He
worked there for 2 years
and while there he played music at parties and
wrote
the popular song,
BLACK AROUND THE EYES
.

He then went to Halifax, Nova Scotia to fish on the draggers for six years. On the draggers he would take his guitar and accordion, performing his music over the dragger radios in his spare time to the workers and other Russian draggers in the area, who insisted that Eddie keep entertaining.
Eddie then moved to Ottawa in 1974, formed an Irish band called, Beggerman, performed for a year, but disbanded and he moved to Toronto where he got a job performing at the Newfoundland Club. Two years later he got a major break, while performing at the famous Horseshoe Tavern. Ian and Sylvia were the featured performers and Eddie was asked to come on stage, and the rest is history. In the audience was a record label executive who was overcome with his performance and invited him to record a single for his label. That single was, SWEET FORGET ME NOT, and it was this song that went into the hearts of Newfoundlanders everywhere and became Eddie's signature song. This single song lead to his first smash hit album, Sweet Forget Me Not and sold thousands and thousands of albums. Since this album, Eddie has become a household name and is in constant demand for his music.
Through the years since that first album, Eddie has constantly travelled across Canada and United States performing and producing albums. Among his countless albums include Jack of All Trades-Come Closer Eastcoaster-Come Home Year On The Caribou-Celtic and Country Memories-Canadian Balladeer-Merry Christmas Darling, (the single, Attack on America), just to name a few.
The major highlight of Eddie's career thus far, is performing in the United States, honoring the active United States and Canadian Military Troops and its Veterans. He is volunteering his band services completely free of charge and their own expense. His band, Marty Delaney, Rhonda Stamp and Eddie with Harold O'Connell, managertravelled 80,000 miles in 2004 across the USA and performed at 44 military bases and 29 veterans hospitals.
Eddie has the artistic ability to turn horrific events into songs of meaning and show the love of two great nations.Examples are: Single, ATTACK ON AMERICA, about 911- Album entitled, BRAVE HEARTS, dedicated to the crew of the Columbia Space Shuttle-the single, THE-INNOCENT, (David Milgard Story) and countless others. His songs reflect life and tragedy and bring much-needed resolve.
For the first 6 months of 2005, Eddie and his band have continued to perform in the United States performing for the militiary and various venues such as retirement centers, air shows, private parties and so on. Since June, they are based in Ontario performing at various events, shopping plazas, preparing another new album and awaiting re-entry into the USA, where many performing events are booked. Keep posted to this website for further information regarding Eddie and his music, his performing dates and any new major announcements.