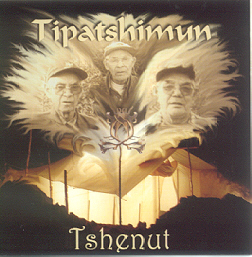 Meet
Tipatshimun
, meaning, (The Legend), a
group of young Innu men
, all self-taught musicians from the
community of Sheshatshiu
, population of 1500 of
Central Labrador
.They sing in their first language,
Innu Eimun
, of the troubles their people go through and to
promote the cultural diversity of Newfoundland and Labrador
. They sing to
bring hope to the people of their community
and to
share the deep history of the Innu
to all people of the world.
John of Atlantic Seabreeze met the band in February '05 at the East Coast Music Awards in Sydney, Cape Breton where the band showcased at the 74 hour jam, and was very impressed with the Band. David Penashue was the group's founder, a young man from Sheshatshiu, Labrador who uses his gift of music to express his history and passion. Many of his songs speak of the life experiences of the Innu.The Innu have been only been living in the community since the 1940's. Until that time, they led a traditional nomadic lifestyle in search of their main dietary staple the caribou.
David was raised by his grandparents and spent most of his childhood living in Nutshimit (the country) for months at a time. He began to play the guitar at age twelve. He was totally self-taught and enjoyed performing for others. His great grandfather encouraged him to express his experiences to teach others the strength of the Innu people. Most of the music David writes and performs is in his first language, Innu-Eimun. His sound captures the heart of the Innu.
He and his band released their first CD in 2000 entitled Pishum and now in 2004 they released their second entitled, TSHENUT. The CD contains 12 selections and all songs in their first language, pays tribute to the Innu elders of Labrador. A very nice listening to CD and their music very professional. Band members are;David Penashue, vocals/acoustic-Melvin Penashue, vocals/keyboard-Jerome Pone, bass and Gregory Mark, vocals/guitar.
The CD speaks about who they really are. Their songs come from the soul of their language. The band continue to perform and are featured at many events in Labrador, Nfld. and Quebec. To get more information regarding the band and their music, contact David at their above posted e-mail address or tel: 6709-497-8931 or 8886 or fax: 709-497-8993