Meet
The Cormiers
from
Conception By South, Newfoundland
. The Nfld.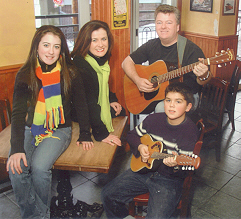 and Labrador Music Association
award nominated group
, consists of:
Gordon
Cormier, his sister
Loretta
and her daughter
Mallory Johnson
and Gordon's son
Randall
. The popular group with their
musical roots
firmly entrenched in their
Scottish/French background
, have
audiences in awe
wherever they perform. Just completing
a major showcase at ECMA 2004
in St. John's, Newfoundland, they
showcased in Toronto
, March 4 during
Canadian Music Week
.
They hail from the Codroy Valley on Newfoundland's west coast. Individually, they have a wealth of experience in performing and together they share magic on stage and have their audience on an emotional roller coaster. They perform throughout Newfoundland and Labrador and are in high demand for festivals. With the release of their debut CD entitled, The Shamrock, Thistle and Rose, the group have established a major following and continues to grow with every performance.
The CD received extensive air-play in their province, and as a result received 2 nominations with the Newfoundland Music Industry Association Awards in 2002.
Mallory, 13 years old, is an accomplished vocalist, pianist and tap dancer. She began her career at age 3, and at age 7 she performed the Canadian & American Anthems at the St. John's Maple Leafs Hockey Games. At age 8 she was the youngest person ever, to sing both Anthems at Maple Leaf Gardens and Air Canada Center in Toronto for an NHL Hockey Game. She sang all anthems in Sept. 2003 at The Commemorative Events of 911 in St. John's, the opening of ECMA 2004, and many other important events. As many people say, look out Celine and Amanda.
Gordon, Mallory's uncle has been performing professionally for the past two decades. He sings, plays mandolin, banjo, mandola, button accordion, rhythm and lead guitar. He previously recorded 5 albums and received extensive airplay across north America, Europe and Australia and performed everywhere. He dazzles audiences wherever he performs with his powerful voice and his ability to master a wide range of musical instruments.
Loretta began her career as a teenager and played gigs across Canada with Reg Watkins and then in the 90's with her brother Gordon. She has recorded 6 independent albums including The Shamrock, Thistle & Rose. Her two singles during the 80's, gave her extensive air-play around the world and was charted in many states, Europe and Australia.
Randall, Gordons son, 13 years old, is drummer for the band. At age 2 he made his own drums and purchased his first set of drums at age 5. He excelled rapidly, and started lessons at age 9. He also plays bodran and keeps The Cormiers in steady time and he is practising other musical instruments such as the guitar and mandolin. He is proving to be a multi talented musician and at the same time keeping his Junior High school learning in order.
For more information regarding this fine talented group, click into their website, address posted above.