Meet
Nathan Wiley,
new up-coming 25 year old
singer/songwriter/multi-instrumentalist
from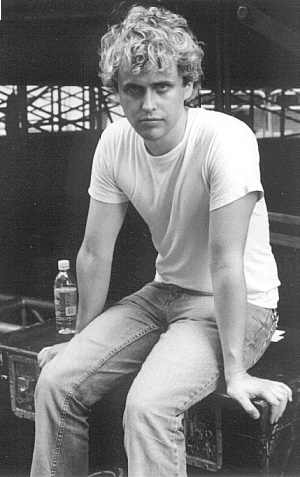 Summerside, Prince Edward Island. Since the release of his debut Album entitled,
Bottom Dollar
, in August 2002, he is
earning critical acclaim
across Canada. His
album
was
chosen by Billboard Magazine
as
one of the top Ten albums
of 2002 and it was
nominated
for Chart magazine's
2002 Golden Toque Award
for Best Canadian Album. To top off nominations for 2002, Nathan has been
nominated
for
four ECMA 2003 Awards
including
Album of The Year, Male Artist of The Year, New Artist of The Year
and
Alternative Artist of The Year
.
He is a recent winner of CBC's Radio Definitely Not The Opera's Big Break Contest and finalist in CBC TV's Great Canadian Music Dream. Nathan comes from a musical family and has been exposed to music for many years while he was growing up. His influences are, Tom Waits, Nick Lowe, Bob Dylan, Neil Young and early jazz and blues performers like Louis Armstrong and Fats Waller. After completing High school, he went to Vancouver to find work and pursue his music interests. While there he got heavily involved in music and performed with various bands with various styles. He moved back to P.E.I. in 1998 and formed a trio band called The Evil Agents.
But in November 2000, Nathan took his music really serious and began to record an album from his many years of writings over the years. Since he released the album, he has received nothing but positive feedback. During 2002, he has performed to much critical acclaim in support of such artists as Sarah Harmer, Blue Rodeo, Dan Berne and Sarah Slean.
Nahan is also looking forward to ECMA 2003 in Halifax at the awards show, as he has been added to the list of performers on the live CBC show seen by millions of people.. His CD, Bottom Dollar review, can be seen on this website. Nathan is signed with Sonic which is distributed nationally by Warner Music. For further information about Nathan and his music, check his website, address posted above.
Update April 2, 2022:
Nathan released his new CD entitled, MODERN MAGIC IN 2021.This album won MusicPEI 2022, Album of the Year and Songwriter of the Year.
Here is a sample of his music from the album: