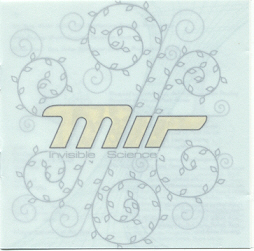 Meet
Mir,
one of Canada'a
top Pop/Rock Bands
from Halifax, Nova Scotia.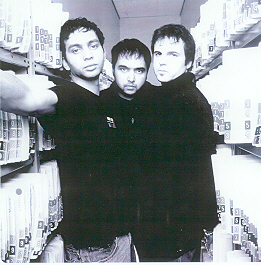 This unbelievable Band, is certainly on the rise. Having been
nominated
for 5
ECMA 2002 Awards
, they have signed a publishing deal with
Wintrup Musik Publishing
in Franfurt in
Germany
. By signing the deal, the Band was asked to join
Sting, Leonard Cohen, Joni Mitchell, Emmy Lou Harris, Ladysmith Black Mambazo
and other popular artists to be included on a
compilation CD
entitled,
The Great Stupa.
The bands single,
State of Emergency
, from their New Album entitled,
Invisible Science
, was chosen by the Producers because of
its lyrical message
.
Here are the Band Members: Shehab Illyas and Asif Illyad (Brothers) and Adam Dowling. Asif was born in Sir Lanka, but raised in Surrey, England. He has been living in Canada since age 11, and studied music. He received his classical musical training at Dalhousie University as he had received an entrance scholarship in the Music program.
His brother Shehab, was also born in Sir Lanka and raised in Surrey, England. Best known for his music, his other talents are painting, photography, sketching and graphic design. His photographs got rave reviews upon showing and his graphic work was used in producing their CD.
Both brothers performed with several well-known artists in the past, including, Lennie Gallant, Nick Van Edee of Cutting Crew and Gordie Sampson.
Adam Dowling, former drummer with Cape Breton fiddler, Ashley MacIsaac, spent several years travelling the globe performing with Ashley. He has been performing with Mir since 1998, has to date, a lifelong passion for music in his 16 years travelling to more than 25 Countries performing. He is recognized as one of Canada's most talented and accomplished drumming musicians. He has performed with besides Ashley, Haywire, The Trees, Midge Ure, Jessie Cook and Lennie Gallant.
With this compination of musical talent, one can easily see, how successful this band is to date! The group have their own record label called, AASH Records. This past winter, they produced a new video for their song, State of Emergency. Critic remarks have been astounding about the group and their new album.
In May of this year, Mir have been invited to participate in Europe's two largest festivals with many well-known artists, a true honour for the group. To read more about Mir and their music, link into their above posted website address.