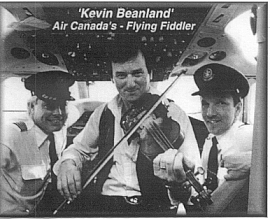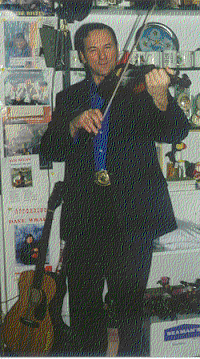 Kevin Beanland
, was born and raised in
Flat Bay, Newfoundland
. Kevin grew up in a musical family, immersed in the lovely timeless
jigs and reels
played by his grandfather and uncles on the fiddle and accordian. His grandfather whistled the tunes while he worked with Kevin imbibed his love for music. Kevin soon took on the role of understudy to his grandfather at community gatherings where he
entertained the local people
. His mother encouraged his interest in music. Like many west coast islanders, he
has Irish and French roots
. At the age of twelve he became intrigued by the Wild West and country & western music. Kevin began with the guitar and soon the mandolin and the fiddle; thereby launching
his present eight instrument repertoire
. He would eventually reach the level of being equally at home in playing either jigs and reels or country & western music.
At the early age of fifteen he went to work in the local gypsum mine. He worked as a labourer, then a truck driver, shovel operator, backhoe operator and eventually became a supervisor and safety officer. He worked in the mine for twenty-seven years until it closed. His music during this period was strictly a hobby. At the age of seventeen he won a fiddle championship and played on CBC Radio. He performed at charities such as hospitals and senior citizen homes in his spare time. Kevin traveled the western part of the island during the weekends and became well known and much appreciated. He brought joy to others, while gaining valuable experience along the way. During this time he also married and raised a family.
In 1989, Kevin was aboard an Air Canada flight to Toronto with his fiddle in hand. He was asked to play a tune. Kevin was reluctant at first, but decided to play an old-fashioned waltz, which went over so well with the passengers, he played another tune, St. Anne's Reel. While playing, a flight attendant noticed him playing the fiddle. The rest is history. Kevin was invited to perform in the cockpit, and entertained the flight crew, who were so impressed, they officially called him , Canada's Flying Fiddler.
As a result, Kevin has been given the title, Air Canada's Flying Fiddler. Kevin has been going non-stop since 1989. He has performed all across Canada, and many states in United States. He has been recipient of many awards. He has two cassettes to his credit namely; The Flying Fiddler & Heading For Newfoundland. In March 1999, Kevin released his first CD entitled, The Best of Kevin Beanland. Since the CD has been released, it is getting tremendous air play in England and United States.
Kevin is truly a perfect goodwill Ambassador for Newfoundland and Nova Scotia. He is based in Lower Saskville, Nova Scotia and continues to perform and is much in demand for his music. For the past 4 summers, he has been performing for Marine Atlantic, on board the MV Smallwood and MV Caribou playing the gulf between Nova Scotia and Newfoundland. He also entertains passengers disembarking from Carnival Cruise Line Ships in Halifax.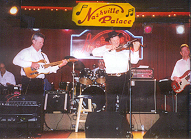 Kevin Beanland is seen here, performing at Nashville Palace in Nashville, Tenn. on November 7, 2002. Kevin is kept busy performing all over Canada and in parts of the USA.
UP-DATE-September 22, 2006
For Bookings In Your Area:
N.S. (902) 466-5424; NL. (709) 647-3063
Cell: (902) 488-4556
B.C. Contact Ron Beanland at (250) 748-5647
RR#1, Sitw 152, Comp 37, Bowser, B.C. (V8R 1G0)
Box 6 Site RR1
Flat Bay, Nl, A0N 1Z0