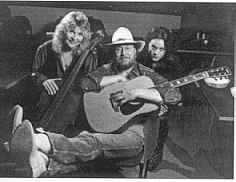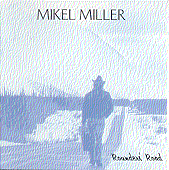 Mikel Miller
may live in the
Yukon
and sing of vanishing lifestyles, but his music reflects the eternal strength and character of the working man. Mikel was
born in Ontario
and moved to the Yukon in the 1980ís. His music is classified as
Country/Folk.
He performs mainly just with his guitar, and weaves a memorable musical experience
laced with country
that is responsive, reflective yet invigorating. He is
a balladeer
whose haunting songs about ghost towns and chasing your dreams hits a chord with his adventurous souls in the audience. He sings about
railroads, cowboys and hoboís
along with all his other material. Traces of
vagabonds, trains and highways
run through Mikelís repertoire.
He has played in coffee houses and clubs from Montreal to Regina and from P.E.I. to Alaska. Mikel has several LPís & CDís to his credit, with his latest released in 1999, a 15 song collection, entitled, Roundersí Road. Some song titles are: Hand In The Game-My Sweet Alberta Home-Between The Bourbon And The Rain-Leahís Song-No More Trains and many more.
Miller sings his own material as well as adapting to his own style the writings of such people as Townes Van Zandt and Jerry Jeff Walker. These days we find Mikel hitting the road once again, playing the clubs, coffeehouses and festivals across Canada. The road is where Mikel feels the most calm, feeling and hearing the wheels roll him along, traveling this vast country, writing and performing along the way to him itís the best way.
For further information/bookings contact Mikel Miller at the address below:
Box 31467
Whitehorse, Yukon
Y1A 6K8
Phone (867)668-2894
Notes: The Profile picture of Mikel was taken with musicians Marg Tatam and Amanda Leslie by Eric Semanus, a musician. The girls play music with Mikel in the Yukon.
Notes as of April 1/02:
Mikel will be releasing a new Album in April 2002, entitled, All Roads , an acoustic/country CD. It features songs by Townws Van Zandt, Norm Hacking Fred Eaglesmith. He plans to tour Eastern Canada this coming fall including Ontario.