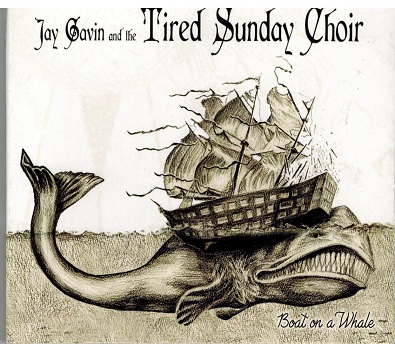 Jay Gavin and the Tired Sunday Choir from Vancouver, BC released their debut CD in 2018 entitled, Boat On A Whale.
The CD follows up their EP released earlier. Jay band leader was born in Tignish, PEI and has lived in Vancouver for a number of years. He is a gritty free-spirited songwriter and energetic frontman. Their first EP was all original and contained spirit songs and made a splash on Canadian College radio.
The CD contains salty rock, barrel songs aged with a taste of country. It features richer arrangements with a bluegrassy feel and contains some of Jay's best written songs, both compelling and catchy.
The CD contains 8 songs and was produced Jay Gavin and Jeff Zipp and recorded at Hipposonic Studios and The Recording Suite.
Here are the song titles:
Eloise - The Carpenter - Roses and Gold - What If Eye - The Bottle
The Internet/Fish & Whistle - Last Harmony - Hard Times Coming
There were many players who helped Jay with the CD namely:
Jesse Brint-Sam Balson-Rye Lundy-Patrick Mezger-Kathleen Nisbit-Owen B. Connell-Tom Hammel-David Lavoie-James Dekker with harmonies by Cassidy Waring and Sam Balson.
All songs were written by Jay Gavin and The Tired Sunday Choir with contributions from Jennifer Celeste Merasty except the song, Fish & Whistle written by John Prine.
The band do an awesome job on the CD and the music sounds great and make Jay's different voice stand out on the CD and Atlantic Seabreeze gives this CD a 4 star rating out of 5 stars on its rating list.
For more information regarding Jay and the band, go to their website, address posted above.