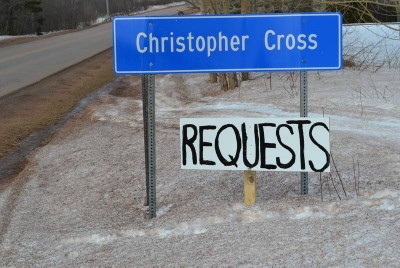 The Christopher Cross Requests
virtual benefit for The Beaton Family in Alma, PEI will be ending on March 11, 2018.
Organizer and founder Malcolm Pitre from Tignish, PEI came up with an idea how to rise funds for the Beatons, and the idea unfolded into an unbelievable heartfelt fundraiser.
Christopher Cross Requests Facebook group was organized by Malcolm, and members in the group requested a music artist in Western PEI to sing a song on facebook, by donating a fee of $5.00 to the fundraiser or more.
As a result, to date March 4, the group has grown to over 13,000 members. Requests kept growing since Feb 18 and over 800 videos have been produced and shown on facebook and will continue until March 11. Over $24,000 has been raised thus far.
Musicians and Group members wanted to give back to people who have always lent a helping hand to others. Its a topic of conversation everywhere, from Calgary AB to PEI.
The benefit is for Kim Beaton who is battling with breast cancer and her husband Gary age 58 has Alzheimers and have a 12 yer old daughter.
For more information, and request a video, check out Malcolm Pitre on facebook.
Update as of March 6, 2018
Christopher Cross Requests are now seen in 35 Countries
With 13,000 members in its group
800 Videos on Face Book
50 Videos posted daily
2219 posts
33.5K comments
204.5K Reactions
Video postings end March 11, 2018