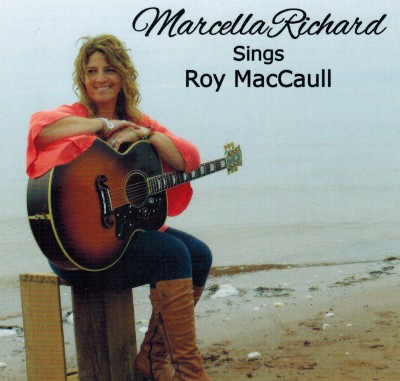 Marcella Richard
is a singer/songwriter from Mont Carmel, PEI. She
released 3 French Albums in 1997, 2000 and 2005
of original songs from the Maritimes and Louisiana songwriters.
Now in 2018, she released her first English album entitled, Marcella Richard Sings Roy MacCaull. This album was brought to the attention of MusicPEI 2018 and as a result it was nominated in the Country Album category. On January28/18 this album won best Country Album of the Year at the Gala Awards Ceremony.
The album contains 12 songs all written by Roy MacCaull from Ellerslie, PEI. She has been singing with Roy MacCaull over the years and always wanted to record his songs. He sings and writes songs about the land and the people of beautiful PEI.
Here are the song titles:
I'd Be Blue Again-Like A Leaf-He Picks Sweet Flowers-Cry Cry Cry-Wall Around The Garden-My Sweetheart-Dancin' Cajun Style-God-Cheatin' Arms-Handsome Young Man-One Eye-Mom and Dad
Roy MacCaull recorded, mixed and played all instruments: guitars/bass/drums/jew'sharp/harmonica/mandolin/mandola/dobro/keyboard. Harmonies were by Marcella, Roy and Patricia Richard.
The CD jacket contains all words of each song. This is a CD that all listeners will cherish which includes beautiful written words by 80 year old Roy MacCaull and the outstanding singing of Marcella Richard.
Atlantic Seabreeze gives this album a full 5+ star rating out of five stars.
For more information regarding Marcella and her music, refer to her e-mail address above.