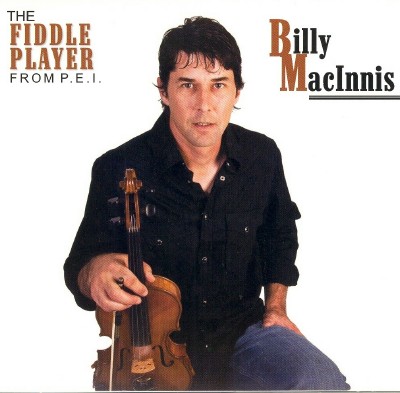 /tr>

Billy MacInnis, fiddle player from Charlottetown, PEI just released in July 2010 his 7th recording entitled, The Fiddle Player From P.E.I. The CD was produced by Billy and recorded, mixed and mastered by Jon Matthews at Big Grey Sound Studio in Charlottetown.The CD contains 12 tracksincluding some traditional and some new material.

Billy composed a special tune on the album, entitled The Reel Stompin' Tom and dedicates the tune to Stompin' Tom Connors. Billy has a special feel for Tom, as Tom has Billy performing on all his tours for the past 6 years. Even in August 2010, Billy is on tour with Stompin' Tom all over Western Canada.

Another track Billy dedicated the tune, The Happy Acres Two Step, to Cecil McEachern who composed the tune, while a member of Don Messer's band, The Islanders.Billy also plays a tune that Leon Gallant from PEI wrote entitled, Juliana's Breakdown. Billy performs regularly with Leon all year long when he is available.

Here are the track titles:

The Reel Stompin' Tom-Alex and Maureen's Two Step-Louis Riel ReelRaemona's Waltz-Constution Breakdown & Chetticamp ReelMaple Sugar Sweetheart-Teardrop Waltz-Happy Aces Two StepJuliana's Breakdown-Cajun Fiddle-French Jig's (fiddle & Piano)Tammy's In Love

Here are the musicians who performed Billy with on the CD:

Leon Gallant, acoustic rhythm guitar

Remi Arsenault, bass guitar

Jonathan Ross, piano

Roger Carter, drums

Chris Gauthier, telecaster & acoustic guitar, slide steel

Mike Pendergast-accordion

Peter Webb, banjo

John Matthews, bodhran

Atlantic Seabreeze gives this album high ratings on its rating list,and forsees Music PEI nominations for 2011.For more information regarding Billy and his music, refer to his website, address posted above.