Scott Woods
, from Fergus, Ontario who is a Canadian Open Fiddle Champion,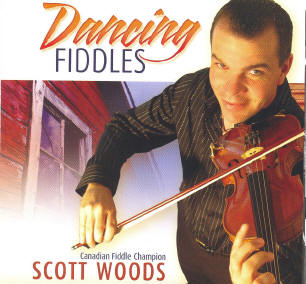 Grand Master Fiddle Champion, Fiddle Entertainer of The Year, Novelty Fiddle Champion and Duet Fiddle Champion, has
just released
another fine
Fiddling CD
in 2006 entitled,
DANCING FIDDLES.
The music on this
album is reminiscent
of the days when the
town halls, barn dances
and
house parties
were the center of entertainment in rural Canada. In a simplier life, long before television, computers, DVD's and video games,
folks made their own fun
by playing, enjoying and dancing to lively fiddle tunes. The
melodies were simple, clean
and
uncluttered.
They were presented in such a way that you just couldn't keep still. You would go home from a
dance with your toes still tapping
, a song in your heart and feeling just great. Scott says this CD pays tribute to that feeling. The dancing sounds of those fiddles carry on.
The CD contains 18 different tracks with 28 tunes. Here are the titles of some of the tunes:
Buck Fever Rag (Reg Hill) Bowing The Strings (Ned Landry)
Faded Love (Bob Wills)
Logger's Breakdown- (Don Messer)
Five Foot Two- (Sam Lewis, Joe Young, Ray Henderson)
Ain't She Sweet -(Jack Yellen & Milton Ager)
Golden Slippers- (Traditional)
Joys of Quebec- (Traditional)
Fairy Toddler- (Traditional)
Panhandle Rag -(Leon McAuliffe)
Tennessee Waltz -(Redd Stewart, Pee Wee King)
Fiddlin' Phil -(Don Messer)
Red Haired Boy -(Traditional)
Lake of The Woods Waltz -(Eleanor Townsend)
Silver & Gold Two-Step (Don Messer)
Murray River Jig- (Graham Townsend)
and 12 more.
Musicians helping Scott with the music on the CD are:
Kendra Norris, fiddle, clarinet, accordion
Bruce Woods, fiddle and drums
Carolyn Woods, piano
Ivan Felker, acoustic guitar
Karl Watson, bass
Doug Stronach, drums
Bruce Timmins, electric guitar & lap steel
Tyler Beckett, acoustic & electric guitar, 5-string banjo, mandolin
This CD has to be Scott's best work to date, and his fiddle playing is brilliant. For those who like fiddle music, this CD is for you, as it brings back so many memories of years gone by with outstanding fiddle music, played to perfection by Scott.
Atlantic Seabreeze gives this CD 5 out of 5 stars and urge all fiddle fans to purchase this fine CD. To purchase this CD and others by Scott, refer to his website, address posted above.