Irene Bridger
, Christian gospel singer from Twillingate, Newfoundland, released her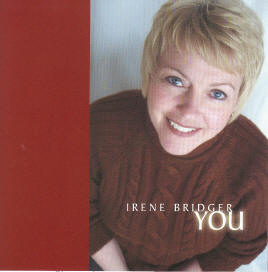 second album in 2005
, entitled,
YOU.
Irene was born in
Twillingate
, and has five sisters and six brothers and is married to husband Ken with 2 children Chuck and Russell. Irenes' second album, YOU,
combines Southern Rock
and
Country Styles
with a
dash of Newfoundland spice
.
Three traditional hymns maintain a link to her first album, A Heart Full of Love in 2005, and indeed her Salvation Army Roots. On the CD, there are 12 tracks, one written by Kim Hanselman in Pennsylvania, entitled, You Split The Veil. The balance of the songs were written by songwriters local to the Notre Dame Bay region of Newfoundland including popular songwriter, Everett Adams who wrote, Cleanse Your Church Lord and On My Knees.
Other song titles are: Touch of The Potter-Never Thirst Again-Pass Me Not-God's Gonna Do It Again-Cleanse Me-Forgiven Forgotten-Rock of Ages and Rest.
Irene's strong vocals and powerful musical presence, tie the diverse musical influences together. Irene displays a nuanced and mature approach to this music that is indicative of her emerging talent. Irene's latest CD release, not only reflects her faith and dedication to Christain music, but also brings a new and enhansed sound for all listeners.
High marks from Atlantic Seabreeze in its ratings for this fine recording , and we wish Irene much success with her career. To read more about Irene and her music and how to order her CD's, refer to her website, address posted above