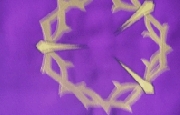 Hundreds of people are flocking to St. Simon and St. Jude in Tignish, Prince Edward Island, to see the image of Jesus Christ in the fabric veil, that is placed in front of the tabernacle. The veil color changes during various church season events, and this particular season, is the Lenten Season, so therefore the color is deep purple, with the crown of thorns embroidered on the fabric veil.
While Angela Callaghan, a parishioner was kneeling before the high altar saying her rosary, she noticed to her disbelief, that an image of Jesus or The Blessed Virgin Mary, was appearing within the crown of thorns. To her astonishment, the vision was stationary, and didn't disappear. Soon the word spread throughout the community, and as a result, thousands of people are visiting the historical 150 year old church to witness for themselves the vision.
The news spread so quickly, that every newspaper on PEI as well as radio and TV stations are visiting the church preparing their news stories. In fact, the National TV and radio networks, CBC and CTV are filing the unexplainable vision stories.
John Gavin, music promoter for this website, was visiting PEI attending the East Coast Music Awards and was visiting Tignish, the place of his roots. On Saturday afternoon, March 4, John heard the about the vision, and rushed to the church with his digital camera, and took the above picture. I as well as thousands of other people coming from all over PEI, witnessed the vision in living color. The parish priest, Father Jim Willick, cannot explain the vision, and clearly stated that he is seeing the vision as well.
What an incredible event in the history of St. Simon and St Jude Church in Tignish! The tiny community of 1000 people are witnessing an unexplanable event, beyond their wildest dreams. The community is a fishing village, and a very religious one. Many are saying that perhaps the church and Jesus Christ is welcoming back all those who have fallen away with their beliefs over the past number of years. While standing in front of the altar observing the image, one could see the hundreds of young people filing past the vision taking pictures of the vision. A truly incredible holy event.
Your comments are welcome regarding the vision in the picture above. Please e-mail me at: g3127@rogers.com (John Gavin)
News Update as of 7 pm, March 8/06
Reports from Tignish, PEI this evening, is that the Vision continues to dominate peoples lives on the Island. Hundreds of thousands of people from all over PEI and beyond, are visiting St. Simon and St. Jude Church since last Saturday. The media is preying on the tiny community, with TV cameras and personnel. Even the CTV and CBC Television and radio networks are involved. Calls are coming from all over North America and Canada inquiring about vision. Never in history, has there been such an event in the village. It has got to a point, that Church doors have to be locked at 7 pm and visitors must get to the church before closing. The Knights of Columbus are present in the sanctuary all day to keep order. Many believe its a miracle, and say the vision may bring blessings upon many believers and may help to bring pease in the world. What people are seeing on the fabric veil, is the exact vision in the picture that is on this site page above. Viewers of the picture above, note: Notice the thorn from the Crown of Thorns, is pointed directly at the vision's left eye.JG
The Vision Picture was edited, and here is a version with a lighter tone