The Palmer Girls
, five sisters from Conception Bay South, Newfoundland and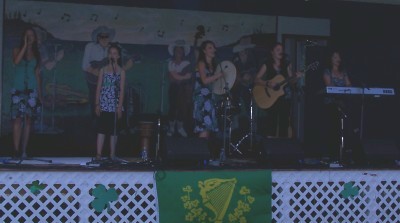 Labrador recently releaded their
debut CD
entitled,
Sisters
. The sisters are,
Kaliyan
17,
Cassie
16,
Josie
15,
Thea
13 and
Shaelin
10. The girls have been singing from early childhood, singing in church and many events and making their
first public appearance in 1997
. With their
rich textured, traditionally influenced vocals
and melodic instrumentation in the categories of
Traditional Newfoundland & Irish Roots & Gospel
are making a mark in the music business.
The CD contains 11 tracks and are all traditional & Irish music selections. Here are the song titles: Gypsy Rover-Song For Ireland-Kellie's Reel-Circle Game-Reel a Bouche-Stolen Angels-Moonlight Mist-Over The Hills-West Country Lady-Saltwater Joys and Buskin' On The Street.
The talented girls play all instruments, piano, guitar, tin whistle, fiddle, bodhram, harmonica, bass, shakers and drums besides writing many of the songs on the CD.
The song, Buskin' On The Street for instance was written by the girls, and came from experiences while buskin' on Water Street in downtown St John's, while meeting thousands of people from all over the world. Another song written by Cassie is titled, Stolen Angels, a beautifully written melody which was inspired by a heavy hearted story. The girls dedicate the song to a beautiful angel, Holly Jones.
The CD is certainly a winner, and high marks are given by Atlantic Seabreeze. To purchase this fine CD, check The Palmer Girls website, address posted. above