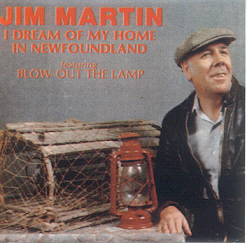 Jim Martin
, singer/songwriter from Newfoundland, and living in Toronto for many years, has now released a
CD
entitled,
I Dream of My Home In Newfoundland
. The CD was
produced from a master of his Cassette
which was released in
1989
. At that time the Cassette was produced and mixed by
Roy MacCaull
and assisted by Jim Martin. It was
recorded at MacCaull's Studio
in Scarborough.
And what a fine CD it is! It was mastered by Karl Machat Jr. at New Toronto Stero Shack in Toronto. The job transferring the music & songs are to perfection, just like the day they were originally recorded.
The musicians were: Don McLean, Accordion-George Webb, Steel guitar-Roy, Kenny MacCaull, mandolin, flat top, bass guitar-Audrey Hawkins, Roy MacCaull, back-up vocals.
Jim's choice of material for this original cassette was simply outstanding, and with his Newfoundland/Irish voice makes this CD sound better than ever.
Here are the song titles: Blow Out The Lamp-Mother of An Irish Soldier Boy-At Mail Call Today-Wild Colonial Boy-I Dream of My Home in Newfoundland-Sean Sabhat of Garryowen-The Boys of Newfoundland-CN Bus-Ribbon and The Rose-Lonely Woods of Upton and Lovely Derry.
This CD is Jim's third CD, produced from his original cassettes. His fans and followers can purchase this CD and others by contacting Jim at 416-466-5650 or contact John Gavin-Atlantic Seabreeze e-mail: g3127@rogers.com. Atlantic Seabreeze will forward all orders to Jim.