Rita MacNeil
, multi-award winning singer/songwriter from
Big Pond, Cape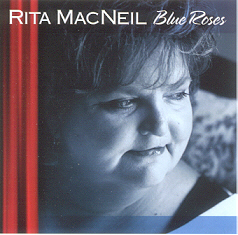 Breton
, just released her
20th album
entitled,
Blue Roses
. And what a fine CD it is! This CD has to be perhaps
her most complete body of work to date
. She offers an honest and forthright
collection of songs
penned from experience.
Rita is entering her 60th birtday
, and with the release of this CD,
she sounds as good as ever
with her beautiful voice.
Rita wrote all 10 songs
on the CD and the beautiful words written in each song
makes one listen with ease and understanding
of what Rita is telling us about how
she feels as the years go by
as we are growing older. With every song,
Rita tells a story
and with each song title
one can relate to the song itself
.
Here is the 10 song titles: Floating-Knowing When To Go-Some Things Never Change-Memphis-Blue Roses-You Can't Go Home Again-Never Under 85-Moon Was Rising-Please Believe Me and Time and Again. The CD, Blue Roses, marks a personal and professional milestone, its a celebration of love, life and experience and proof positive, that 60 is a great place to be. Blue Roses was recorded at Sonic Temple in Haliax, an ECMA Award nominated studio.
Rita choose some of the finest musicans to perform with her on the CD namely; Geoff Arsenault, drums-Chris Corrigan, acoustic and electric guitars-Bruce Dixon, electric bass-Kim Dunn, piano and keyboards-Ray Legere, mandolin and fiddle-Morgan Davis, slide guitar-Ed Woodsworth, acoustic bass, background vocals, Helen Bezanson, Kim Dunn, Bruce Dixon, and Chris Corrigan-Strings: Hillary Brown, Cello and Celeste Jankowski, violin.
Atlantic Seabreeze gives this great CD, a five star + rating out of 5 stars.To purchase the CD and others by Rita MacNeil, click into her website, address posted above or check your local record store where Rita's music is being sold.