Debbie Bergeron
, Country Music Singer from
British Columbia
, is doing quite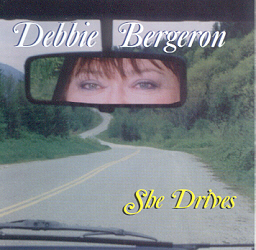 well in Europe as of
January 31, 2004.
Her debut release, self penned single,
Everything Is Gone
, on Hillcrest Records is
riding high on the charts
in Europe. Debbies single was
added at #20 last week
in Melbourne, Australia and has skyrocketed
up the charts to #3.
This is
quite an achievement
for a
Canadian Country Music Artist
.
The CD entitled, She Drives, is certainly raising eyebrows in Europe. Independent songwriter/recording artist, Debbie Bergeron has received an invitation to have a review written and published in the Country Circle magazine, the best known country magzine in Germany, Austria and Switzerland. Max Achatz of the Country Jukebox writes, I want to introduce Debbie's music to our readers. I am always on the outlook for the real thing and from what I heard on Hillcrest, I think Debbie has it.
Other comments in the music industry:Debbie's a star in the making-She comes into town with the hammer down and her gutsy voice knocks everyone out of their boots. To obtain Debbie's CD, click into her website address posted above.