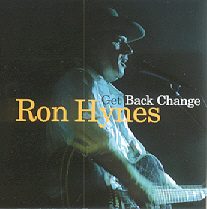 Ron Hynes
, popular Singer/Songwriter from St. John's, Newfoundland, just released an incredible CD entitled,
GET BACK CHANGE
. It appears that this CD is one of
Ron's finest
and from my point of view, it has awards written all over it.
Atlantic Seabreeze
gives this CD a
full five star + rating out of 5 stars
. Ron wrote most of the 14 songs on the CD, with some help from his family and one song by
Delcan O'Doherty
and one by
Murray McLauchlan
. The CD was produced, arranged by popular producer
Paul Mills
. It was also recorded and mixed by Paul at the Millstream, Toronto.
The title song, Get Back Change, was written by Ron with his wife Connie, and by all accounts is chart bound with many other of the songs on the CD. The song was written about Ron leaving his hometown and heading for the brights light of Toronto and getting absorbed in the nightlife of the city where Roy Payne, Dick Nolan and Harry Hibbs had made him feel at home within the nightlife of Toronto. Ron shines on the track with unbelievable music by; Al Cross, drums,-David Woodhead, electric bass-Curly Boy Stubbs, hi-string guitar-Burke Carroll, dobro-Don Reed, fiddle-Joey Wright, mandolin and Jenny Whiteley, harmony vocal.
The song titles are:Get Back Change -From Dublin With Love-1962-Record Man-Dark River-A Western Tale-Someday-My Old Man-Brown Eyes-A Good Dog is Lost-Cape Spear-The Valley Green-The Ghost of Dana Bradley and No Change In Me.
Musicians and artists who performed on the CD besides the artists listed above are: Cindy Church, Sylvia Tyson, Dennis Pendrith, Chris Quinn, Chris Coole, Keith Glass, Tom Leighton and Wendy Solomon.
Ron held his Toronto CD party at Hugh's Room in Toronto's West End on Wednesday night, May 21 with a hugh audience and was given a standing ovation with an encore to his solo performance.