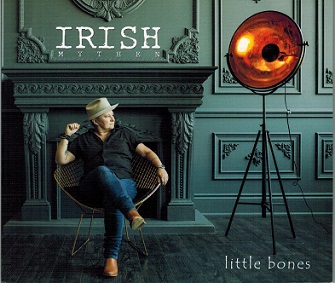 Irish Mythen singer/songwriter from PEI/Ireland has just released her fourth album in May 2019 entitled, Little Bones. Irish Mythen moved to PEI in 2007 and has brought a lot of atention in the music Industry. She won the MusicPEI Award in 2016 for songwriter of the year and in 2015 at ECMA she won Songwriter of the year for her Roots album.
Irish has in the past performed with Rod Stewart, Gordon Lightfoot and Lucinda Willims to name a few.
She is described in some of the media as rambunatious & thoughtful, Loud with tender & love and a must to see artist.
Her new album contains 10 songs of which she wrote except one called, Raglan Road written by Patrick Kavanaugh. Here are the song titles:
Deep dark woods - Let Them in - Did You ever - I painted a picture
Maria - Be Still. Dance - La Vie - Litttle Bones - The Bravery - Raglan Road
Musicians who helped with the Album were:
Sergey Varlamov-Kinley Dowling-Alan Dowling-Atlantic String Machine
The CD jacket is very attractive and contains all song words to the songs, explaining why she wrote each song and great photos.
This album is a great one to listen to, says Atlantic Seabreeze gives the album a full 5 star rating out of 5 stars.
We forsee nominations and awards in the upcoming year for this album for sure.
For more information regarding Irish Mythen and her music, go to her website, address posted above.