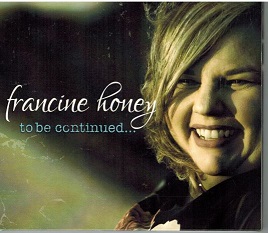 Francine Honey is an Billingual Ontario singer-songwriter and just released her third album entitled, To Be Continued.
The album features tales of heartache and hope delivered with a mix of Americana, country-folk, Canadiana and blues.
Francine shares two fundamental lessons: You are not alone and hope is always around the corner.
Francine is a songwriter since childhood, this former civil servant packs a lifetime of emotion into every song. Her music has taken her across Canada, US, UK, Switzerland and Italy.
Francine has written all 11 songs and the album was produced by Neilson Hubbard. Here are the song titles:
Snowflakes On My Eyelashes-Stay-To Be Continued-Honey
Shacked-Up Sweetie-Space-Open Road-Mamas Take Bad Dream Away
Marilyn-I Wish-Can't Break Through To You.
The CD was recorded at Skinny Elephant Recording in Nashville TN.
Francine does a fantastic job singing her own words and Atlantic Seabreeze has nothing but praise for this album and we for see award nominations for this album. The CD deserves a full 5 star rating out of 5 stars.
Music artists performing the music on the CD were:
Beth Neilson Chapman-Will Kimbrough-Kris Donegan-Dan Mitchell
Dean Marold-Neilson Hubbard-Eamon McLoughlin
For further information regarding this album and others by Francine, refer to her website, address posted above.