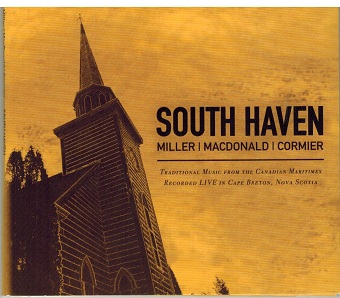 Ben Miller & Anita MacDonald from Cape Breton have just released theirnew CD in May 2018 entitled South Haven.

They are one of the most important folk acts on Cape Breton today. They have become renowned across Atlantic Canada and further afield for theirsynergistic, pipe and fiddle driven style of Gaelic dance-music.

Joining together the musical traditions of Cape Breton and the Scottish Highlands, while incorporating influences from Ireland, Shetland and beyond,they have created a signature sound described as Fiery...Fresh, yet totally traditional, says Piping Today Magazine in Glasgow, UK.

All of these traits can be found on this CD, South Haven. There are 8 tracks on the album and here are the titles:

The High Bass Set - Angus MacKinnon -O'er The Water to Charlie-Alasdair nan Stop (Gaelic Song) - Gur Milis Morag - Bonnie Mary-Muile Nam Mor Bheann - The Fowler On The Moor

Joining them in this project is Zack Cormier, a talented multi-instrumentalistwith deep roots in the Acadian music community of PEI. As a trio, they create a dynamic and powerful sound that transcends the boundaries between Cape Breton,Scottish, and Acadian traditions.

The album was recorded Live at the Ephraim Scott Memorial Presbyterian Church in South Haven, Nova Scotia. All melodies are traditional, arranged by Ben Miller, Anita MacDonald and Zack Cormier.

This album is a winner says Atlantic Seabreeze and forsees nominations and awards for this album-a five star rating out of five stars.

For more information regarding this CD and others by Ben Miller and Anita MacDonald, refer to their website, address posted above.