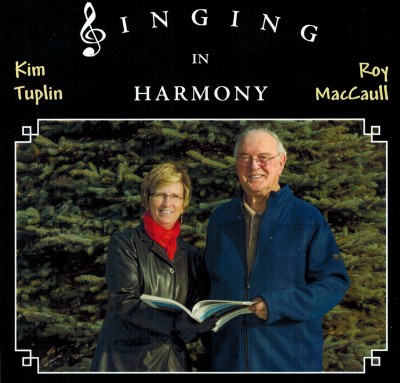 Kim Tuplin
singer/songwriter
from Coleman, PEI
recently released her sophmore album entitled,
Singing In Harmony with Roy MacC aull.
The album follows up to her debut album, Living the Dream in 2016 This album was produced, harmonized by legend music artist Roy MacCaull from Ellerslie, PEI. He played every instrument on that album.
Since the CD debut release, she joined with Roy and performed in many concerts, churches and benefits. Her new album was again produced by Roy MacCaull. He recorded, mixed and played all instruments on the CD, including mandolin, keyboard, harmonica, dobro, guitar and percussion.
The CD contains 13 songs and one instrumental by Roy (No Place Like Home). Here are the song titles:
Flowers In The Desert-Making Believe-Your Eyes-Cold As The North Wind-The Rocking Chair-Go Rest High On That Mountain-The First Fall of Snow-Robin O'Shea-I'm Not Lisa-Your Love-Fare Thee Well-Danny Boy-I Carry Your Picture.
Roy wrote songs, Cold As The North Wind, Robin O'Shea, Tour Love and I Carry Your Picture. Kim wrote, The Rocking Chair. Other songs were witten by; Jimmy Works, Bill Anderson, Vince Gill, Lorene Rose, Jessie Colter-Oscar Isaac, Terri Carisse, Bruce Rawlins and Frederic Weatherby.
A great listening-to album and will be a great addition to music lovers librairies says Atlantic Seabreeze. Kim does a fantastic job singing all those great songs of the past and Roy shines with his outstanding music. Atlantic Seabreeze gives this fine album a full 5 star rating out of 5 stars.
For more information how to purchase this album, refer to Kim's above posted e-mail address.