Legendary Newfoundland artist, the
late Dick Nolan
pioneered the Newfoundland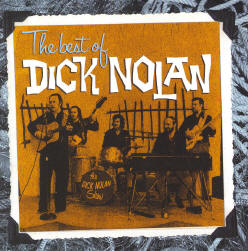 country sound, taking it all the way to the Grand Ole Opry, and becoming the
first Newfoundland recording artist
to be awarded
a platinum record
and
a Juno nomination
. Sony/BMG just released
a 17 track CD,
in which
Dick Nolan hand picked all the songs
before his
untimely death in December 2005
, that represented the
best of his recordings
for RCA. The songs have been
re-mastered from the original vinyl recordings
and are now available for the first time on CD.
Here are the song titles:
Home Again This Year
The Fella That Looked Like Me
It's So Old But Ever New In Newfoundland
Japanese Gin
Aunt Martha's Sheep
Little Boats of Newfoundland
Piece of Bologna
Old Newfie Outhouse
Maritime Farewell
The Nine Thirteen
Shift Old Ireland
Me And Brother Bill
Old Flat Rock Hills
C.N. Bus
Thank God We're Surrounded By Water
Baggage Coach Ahead
and bonus track-Aunt Marths's Sheep (Re-recorded version).
This CD is a sure winner and will be a collector's item, being the first ever CD with Dick's music and especially with the songs hand-picked by Dick Nolan himself in 2005. Dick's music will live on with this excellent CD. This CD is for sale in all Wall-Marts across the country. Check Dick Nolan's website, address posted above for more information about Dick and his music.