Debbie Bergeron
, country music singer/songwriter
from British Columbia
, recently released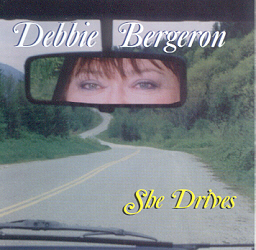 a
new CD
entitled,
She Drives,
a follow-up to her previous popular CD entitled,
Makin' A Connection.
Her singles from that album
got great air-play in Europe, Australia
and
Scaninavian countries
in which one reached No 1 and others in the top 20. In
Canada
, Debbie had
3 singles in the top 100.
This album got
noticed in Nashville
and the song, You're Someone I Can Live Without, reached No 13 & 14 resulting in
award nominations
. She also received
nominations
from the
B.C. Country Music Association
.
With the release of her new CD, She Drives, certainly promises to do even better. The CD contains 10 songs, all written by Debbie. Here are the song titles: Everything Is Gone-Lone Rider-I Believe In Dreams-Standing There-My Heart's Not In It-Feels Like This-Ring Ring Telephone Ring-You Came Along-True Love and She Drives.
Debbie assembled some great musicians for the album namely; Alan Rempel, Darrell Mayes, Daryl Havers, Danny Casavant, Charlie Hase and Jim Woodyard.
The album was co-produced-Alan Rempel and Debbie Bergeron. Debbie sums up her feelings about the new Album-You Can't Take The Country Out Of This Woman, But You Will Find Variety.
The album certainly has variety and with Debbies powerful vocals and great music, this CD is bound to have a number Chart bound winners. Atlantic Seabreeze gives this album a full 5 star rating out of 5 stars. To purchase this CD, refer to Debbie's website, address posted above.
Notes as of Feb 1/04:
Debbie's music is now playing bigtime in Europe and Australia. She is doing quite well with her debut single, Everything Is Gone, in fact it has been doing so well, it has skyrocketed to #3 in Melbourne, Australia in the week of Jan 6, 2004.
Favourable comments are pouring in from Australia and elsewhere. Max Achatz of the Country Jukebox wrotes, I want to introduce her music to our readers in Germany, Austria and Switzerland. I'm always on the outlook for the real thing, and from what I heard on Hillcrest, I think Debbie has it.